Travel agencies, tourist offices, tour operators, publishers of brochures or guides, hotels, etc. To promote your activity and the richness of your country (culture, gastronomy, architectural heritage, landscapes, etc.), you cannot rely on the assets of your destinations alone.
Tourism translation is a means of attracting tourists from all over the world. With nearly 30 years of experience in translating for the tourism industry, Tradutec's support is the key to success for your international marketing strategy.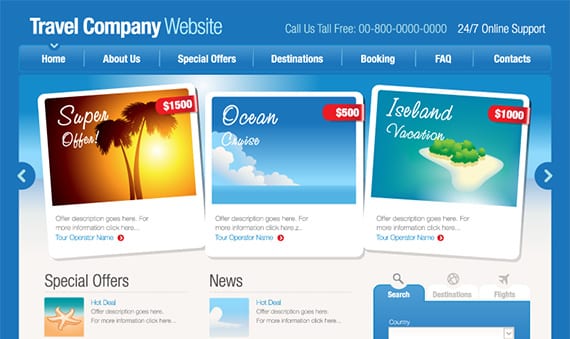 Translation for the tourism industry: the specificities of this persuasive tool
Promoting a tourist attraction requires specific skills!
For decades, the main players in the tourism industry have been placing their trust in Tradutec. The profile of our translators specialising in tourism and marketing is a guarantee of quality for all your tourism translations:
Accuracy of the information provided. Their perfect knowledge of the source language and the target language (mother tongue) enables them to offer translations with impeccable accuracy. Travel enthusiasts will appreciate the sense of detail and precision.
Creation of emotion and desire to travel. Thanks to their language skills and cultural affinity with the target countries, they are able to perfectly ensure the localization (adaptation) of your texts. Their high quality translations promote the beauty of a destination. The words used highlight cultural specificities and have particular meaning for foreign visitors.
Proficiency in marketing rhetoric. Through impactful phrasing, they implement their powers of persuasion.
Tradutec's solutions for an attractive tourism translation
With 30 years of expertise in tourism translation, Tradutec is a professional you can trust to bring your project to a successful conclusion.
Our mission is to provide high quality translations that entice tourists and evoke emotion!
We have all the necessary resources and expertise :
a vast network of native translators with a perfect knowledge of the language and the tourist attractions, their history and their cultural specificities. Our teams translate into their mother tongue. Passionate about travel, they have an excellent knowledge of the destinations that are the subject of the translations, having lived in or visited these countries, cities, regions.
All possible language combinations. French to English translation is the cornerstone of translation for the tourism industry. However it is imperative to offer content in travellers' own languages to make them really want to discover a region or culture! Japanese, Russian, Greek, Chinese, Italian, Dutch, German, etc. Tradutec offers multilingual tourism translations to meet all your needs.
Great flexibility in order to meet your time requirements. Each tourist season requires excellent reactivity. The deadlines for turning out communication media are often very short. Tradutec is able to deliver translations very quickly (within 24 hours depending on the medium). Thanks to our CAT tools and our large panel of specialised translators, we can adapt to all your constraints (seasonality, regular modifications, etc.).
I would like a quote for my tourism translation project
Targeted translation for all your tourism materials
Whatever your requirements and deadlines, our tourism specialised translators translate all types of marketing documents:
Websites
Email campaigns / Social network content
Tour Guides
Travel Brochures
Tourist documents and brochures
Traveller Information Bulletins
Press Releases
Email exchanges during the reservation and confirmation phase
Audio guides
Contracts, General Terms and Conditions of Sale, Insurance
Rely on Tradutec's know-how to also strengthen the natural referencing of your web content and help you spread your messages even further. International communication is at your fingertips.
A global solution for the translation of all your print and web tourism communications!