Due to globalisation, international trade is an integral part of the business world. Tradutec's legal expertise is at your disposal to ensure that your international development goes smoothly.
Our large network of expert translators specialising in the legal field actively and discreetly contribute to the success of your internationalisation. Advice, impeccable legal translations, emergency management, etc. Tradutec provides you with a customised professional response. Our standards are as high as your stakes!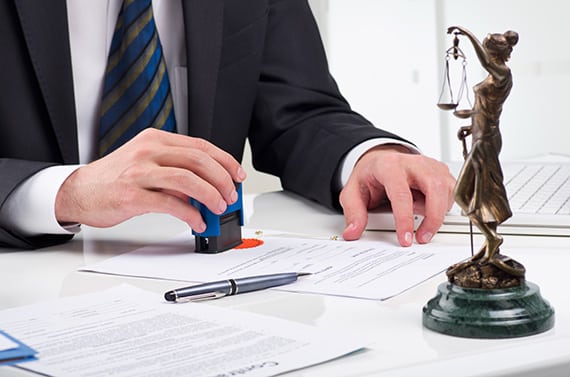 Our legal translation specialists: a guarantee of quality
As legal translation is complex and mistakes may have serious consequences, it must be done by professionals in the field!
For nearly 30 years, Tradutec has been meeting your requirements and enabling you to rise to the challenges of your international business. We have developed expertise in legal translation and a network of legal translators:
They have an excellent understanding of the source language and translate into their mother tongue. They accurately convey the linguistic, terminological and technical nuances specific to the legal sector in the translated documents.
Having practiced as lawyers, notaries or attorneys, they have a precise knowledge of the different legal frameworks and regulations in force in the target countries. They understand the complexity of the content to be translated.
Rigour, accuracy and compliance with local law are guaranteed for all translations provided. The profiles of our expert translators are proof of the quality of our services!
You can devote yourself fully to your core business!
Your legal specialty is our area of expertise!
Criminal law, civil law, corporate and business law, international law, stock exchange law, insurance law, intellectual property law, land law, etc. Although these specialties fall within the legal field, they nevertheless have very specific terminological and regulatory subtleties which are of great importance!
Tradutec is the trusted partner of various legal professionals such as law firms, court bailiffs, notary offices, courts, lawyers, arbitration chambers, etc. for reliable translations of all legal documents: articles of association, contracts, legal notices, minutes, general terms and conditions of sale, patents, summonses, judgments, shareholders' agreements, civil status certificates, etc.
We select a translator with expertise in your area of legal specialisation. Reliability guaranteed for all your international trade!
I would like a quote for a legal translation
Do you need a certified translation of the original? Tradutec has the sworn translator you need!
Whatever your sworn translation needs, we have a large network of Court of Appeal certified legal translators for all language combinations.
By affixing their stamp and signature, these sworn professionals guarantee the exact conformity of the translations with the originals.
Find out more about our sworn (also known as certified) translation and legalisation services.
Legal translation: the Tradutec guarantees
For nearly 30 years, Tradutec has been committed to providing all its clients with legal translations that enable them rise to their various challenges due to its wide range of assets:
The solid professional expertise of our native translators who have worked as attorneys, notaries, jurists, etc.
A wide range of areas of expertise for a response that is adapted to all specialties in the legal sector.
The strictest confidentiality before, during and after the delivery of the translations.
Translations that perfectly conform with the original documents.
A quality assurance approach to guarantee the excellence of rigorously controlled translations: a dedicated expert carries out a second proofreading to verify the accuracy of the translated content.
A quick turnover thanks to our network of translators who are available and reactive whatever the degree of urgency.
The management of large volumes and long-term support. The more transnational contracts you sign, the more your need for legal translation increases. Thanks to our CAT tools (glossaries, translation memories) and our 600 expert translators, we are able to process recurring translations quickly and efficiently to facilitate your international development.